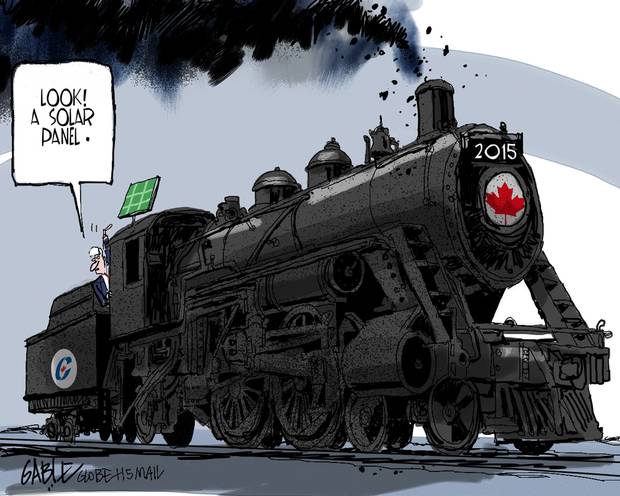 Picture courtesy of The Globe and Mail
The great thing about political cartoons is that it draws from its ability to say so much with so little.
I love the picture, in of itself, that there is a lot of good and bad in what it tries to convey. When we look into green energy or initiatives, it's great on paper and maybe even profitable to a degree. I'll get to that point in a second. However, when in practice, many people are unwilling to actually fix the problem because it's much easier to put a blanket over it instead. Fundamentally this is what happens when demand decreases. We see a drop in competition, an increase in prices and a push from accessibility. Innovations stagnate and products stagnate.
What does that mean? It means more people are going to complain that prices are too high and unaffordable. I like to think we're still in the honeymoon period for Solar, and just around the corner is a Renaissance waiting. People looking in are skeptical at what would happen after and are hesitant while those in are enjoying the turbulence and shifts in landscapes. Almost everyday there's something new in the solar world.
I don't doubt that sustainable energy consumption will be a huge component of our future. It has to. Like any growing technology base, you'll see more people playing, experimenting, challenging how solar technology can be applied. There will be more efficient cells, different ways of applying this technology, and because of the possible applications and accessibility, we're going to see a shift of how humans as species will undergo the next big social and technological change.
There are bright things to look forward to. I can promise you that. Look at Elon Musk, challenging the way we drive and how we live our day to day lives. This is just one of many examples of what sustainable energy can do for us. To dismiss solar and other renewable sources of fuel is to impede our own progress.
Bigger corporations and entities can see this though. They understand it without necessary wanting to fully acknowledge these prospect. Why fix something that isn't broken right? I just want to bring the point across that there are people in and around our very own communities where families are working hard to keep the lights on. It's electricity or food. This is a reality. So it is broken and it needs to be remedied.
If solar and other green sources of energy are the solution, why haven't we solved this problem? Simple, because it's used more as a marketing tool than it is as an actual tool. Companies and governments will slap a green label or solar panel to show intent while doing other things in the background. One hand on your shoulder with the other in your pocket. Not to say it isn't a step forward, just a little disingenuous. I want to say it's almost a necessary evil to get the general public on board with solar energy.  If governments and corporations can show an effort, then public support will slowly back it.
Which brings it back to the paper problem. Yes, it can be profitable. Green and solar initiatives for companies and governments looks great on paper. The positive reception to the public leverages brand image, thus able to rally more support for their products. A ripple to wave.
It's good.
But do we need to do more? Absolutely!
Not too radically, but at a progressive pace.